Unleash Your Inner Chess Champion
Join our exclusive newsletter for opening guides, tips, and inspiration. Our community of 5,131+ chess enthusiasts is waiting for you.
Don't wait – enter your email below and join now!
Hey chess fans, it's your boy ChessLoversOnly here to talk about one of the most dominant players in the game today – Ding Liren. This Chinese grandmaster has been making waves in the chess world for years now, and I'm excited to take a closer look at his life and career.
Discovering Ding Liren: The Rise of China's Chess Sensation
Ding Liren is a Chinese chess player born on October 24, 1992, in Wenzhou, Zhejiang, China. He is currently the highest-rated Chinese chess player and one of the top-rated players in the world. Ding's talent in chess was evident at a young age, and he became a Grandmaster at the age of 18.
Ding has won the Chinese Chess Championship three times and is known for his incredible skills on the board. He made history by becoming the first-ever Chinese player to pass the 2800 Elo mark on the FIDE world rankings, and he was the winner of the 2019 Grand Chess Tour and the Sinquefield Cup.
But that's not all! In 2016, Ding was the highest-rated Blitz player in the world with a rating of 2875! Plus, he's the first Chinese player to ever compete in a Candidates Tournament. Ding's a real trailblazer, and his skills on the board are a force to be reckoned with. Who knows what other amazing achievements he'll accomplish in the future?
From Pawn to Grandmaster: Ding Liren's Journey in Chess
Ding is a three-time Chinese Chess Champion, taking home the gold in 2009, 2011, and 2012. He's also a regular player for the Chinese national team, representing them in all four Chess Olympiads from 2012 to 2018. He's brought home a lot of hardware for his country, including team gold medals in 2014 and 2018 and individual bronze and gold medals in 2014 and 2018, respectively. He also won team gold and individual silver at the World Team Championships in 2015.
In August 2015, Ding became the second Chinese player to break into the top 10 of the FIDE world rankings after Wang Yue. He's also got some serious Blitz skills, having held the title of highest-rated Blitz player in the world with a rating of 2875 in July 2016.
In September 2017, Ding became the first Chinese player to qualify for a Candidates Tournament, which is a big deal in the world of chess. He placed fourth with one win and thirteen draws in the 2018 Candidates Tournament, which is a pretty impressive feat since he was the only candidate who didn't suffer a single loss during the event.
In September 2018, Ding broke another record when he became the first Chinese player to pass the 2800 Elo mark on the FIDE world rankings. And in November of that same year, he reached a rating of 2816, which is the joint-tenth highest rating in history.
Ding Liren vs Magnus Carlsen: The Battle for Chess Supremacy
Ding's got some serious chess skills, and he proved it again in August 2019 when he won the Sinquefield Cup. He beat out the reigning World Champion, Magnus Carlsen, in the playoffs to take home the title.
Ding's also been a finalist in the Grand Chess Tour along with Carlsen, Maxime Vachier-Lagrave, and Levon Aronian. But Ding took it all the way and won the Grand Chess Tour final, beating Aronian in the semifinals and Vachier-Lagrave in the finals.
Mastering the Game: Ding Liren's Record-Breaking Ratings
Ding faced some tough competition in the Candidates Tournament 2020-21 after qualifying by finishing in second place at the World Cup for the second time in a row. Unfortunately, he got off to a rough start and ended up finishing in a tie for 5th and 6th place. But that wasn't the end of his journey to the World Chess Championship.
Fast forward to 2022, Ding faced some major obstacles due to the COVID-19 pandemic, making it hard for him to travel and meet the minimum games requirement for qualification. However, the Chinese Chess Association came to the rescue, organizing three different rated events at short notice to give Ding a chance to qualify.
At the Candidates Tournament, Ding had a bit of a slow start, but he wasn't about to let that hold him back. He fought his way back and ended up securing second place with 4 wins, 8 draws, and 2 losses. That's pretty impressive if you ask me!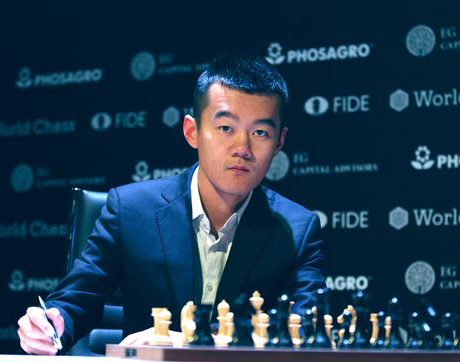 And get this, since reigning champion Magnus Carlsen declined to defend his title against Ian Nepomniachtchi, the winner of the 2022 Candidates, Ding's second place spot qualified him to play Nepomniachtchi in the World Chess Championship 2023. That's right, Ding's got another chance to prove himself on the world stage.
But wait, there's more. Ding recently competed at the Tata Steel Chess Tournament 2023, where unfortunately he suffered some losses to players like Richárd Rapport, R Praggnanandhaa, and Anish Giri. These losses brought his rating below 2800, leaving only Magnus Carlsen with a rating above that mark.
Ding Liren has had some ups and downs in his chess career, but he's a fighter and always comes back stronger. Let's see what he brings to the table in the World Chess Championship 2023.
The Art of Chess: Ding Liren's Unique Playing Style
Ding is known for being an absolute beast on the board. He's often compared to the legendary Tigran Petrosian, who was famous for his defense skills and endgame play. And let me tell you, Ding lives up to the hype.
His playing style is all about being strategic and defensive, which can be super tough to beat. He's a master at defending even the most challenging positions and has a knack for coming up with creative solutions when things get complicated.
But that's not all! Ding's preparation is off the charts. He spends hours studying his opponents and analyzing their moves, which gives him a massive advantage in any game.
Overall, Ding Liren is one of the most skilled and formidable players in the game, and his playing style is a testament to his incredible talent and dedication.
Ding Liren's Unforgettable Achievements on the Chess Board
From August 2017 to November 2018, Ding was straight-up unstoppable. He went 100 games without a loss, recording 29 victories and 71 draws. That's right, you heard me. ONE HUNDRED GAMES. It was the longest unbeaten streak in top-level chess history at the time, until Magnus Carlsen came along and shattered the record in 2019.
But let's not forget about Ding's current status in the game. He's currently ranked number 3 in classical chess, just behind Carlsen and Nepomniachtchi. And get this – he's a contender for the ongoing World Chess Championship 2023. That's right, he qualified after Carlsen declined to defend his title, and he came second in the Candidates Tournament 2022 to Nepomniachtchi.
So, let's give it up for Ding Liren, the man with the 100-game unbeaten streak and a serious contender for the World Chess Championship title. This guy is a legend in the making, and I can't wait to see what he does next on the board.
Checkmating the Competition: A Recap of Ding Liren's Incredible Career
There's no doubt that Ding is one of the best in the game, and his long list of achievements speaks for itself. But let's talk about what makes him stand out on the board.
First off, his playing style is unique and fierce. He's all about being defensive and strategic, and his endgame skills are out of this world. And when things get tricky, he always finds a way to come up with some creative solutions.
But Ding doesn't just rely on his natural talent. He puts in the work, studying his opponents and analyzing every move. That kind of dedication and preparation is what separates the good from the great.
Overall, Ding Liren is a force to be reckoned with on the chessboard. His talent, hard work, and innovative style make him one of the most exciting players to watch. Keep an eye on this legend because he's just getting started.
Let's Chat!
What's your favourite chess opening?
What other questions do you have about Ding Liren?
Do you think he is going to win the Chess Championship 2023?
Leave me a comment below!
Peace!
ChessLoversOnly
.
.
.
Let's Connect!
– Youtube: ChessLoversOnly
– Instagram: Chess.Lovers.Only
– Pinterest: ChessLoversOnly
– Facebook: ChessLoversOnly
– Twitter: ChessLoversOnly